Customer Case Study
From AWS to Private Cloud with Netris
Improving Unit Economics By
90%
Executive Summary
Like many SaaS companies, AcceleratXR had initially started on AWS, a great choice that allowed the company to confirm product/market fit and establish strong traction with serious enterprise customers.
The business was growing well. So were AWS bills. Infrastructure cost was biting a significant chunk of the revenue affecting the unit economics. 
The team has leveraged open-source and modern infrastructure management and automation software to build and operate their own private cloud in a colocation facility to reduce infrastructure costs and improve unit economics. 
AcceleratXR has built its own private cloud in a colo using bare metal and efficient infrastructure operations tools such as Netris, Rancher, and Ceph. The private cloud delivers the necessary Kubernetes, Compute, Storage, and Networking services for 90% lower total cost (CapEx + OpEx) than AWS.
Netris software and professional services have alleviated a tremendous amount of risk and guesswork related to Network Infrastructure. So our team could entirely focus on our core business - our SaaS product.
About AcceleratXR
AcceleratXR is a powerful SaaS platform for building highly-scalable online games and entertainment products. The platform offers a huge list of features covering everything from account management, matchmaking to questing. With a simple royalty based licensing model as well as commercial Cloud Services, AcceleratXR enables teams of any size and experience level to build state-of-the-art online experiences at a fraction of the time and cost of other solutions.
Started in 2018 by veteran developers of the gaming industry with over fifty years of combined experience who previously shipped successful franchises such as XCOM, Hawken, Lost Planet, and League of Legends. The AcceleratXR team has pulled together all their knowledge and experience to build the most customizable and feature-rich online gaming platform leveraging proven open-source technology.
AcceleratXR, pronounced simply accelerator (/əkˈseləˌrādər/), was built with the ambitious goal to dramatically Accelerate Extended Reality games and application development. With this goal in mind, the team has defined three dimensions of success.
Faster Time to Market
Reduced Development Cost
Lower Cost of Ownership

Challenges Faced and the Netris Solution
The initial challenge was that infrastructure cost at AWS was biting a high percentage of revenue. Infrastructure cost optimization would play a vital role in improving unit economics. Initial expense modeling has demonstrated that moving to own private cloud in a bare-metal colocation facility can reduce infrastructure costs significantly compared to AWS. However, there were technical challenges at the beginning. 
The team used Rancher for Kubernetes cluster management and Ceph for storage. That combination delivers the necessary application platform.
However, finding the right tool to cover their networking needs quickly became challenging.
We've tried Metallb, which worked okay in the lab but lacks health checks, and its BGP-based load-balancing mode is quite complex. Metallb is not a substitute for ELB (Elastic Load Balancer). Moreover, we needed more moving pieces to factor in when adding components like gateways, firewalls, routers, DHCP, NAT, and VPN. Searching for a solution to this complicated mess, I stumbled upon Netris. Networking became easy with Netris. Installing and running network services became as easy as consuming in AWS. That was the key.
Infrastructure Services Architecture
All Netris VPC Networking services are provided through 2 servers running Netris SoftGate software.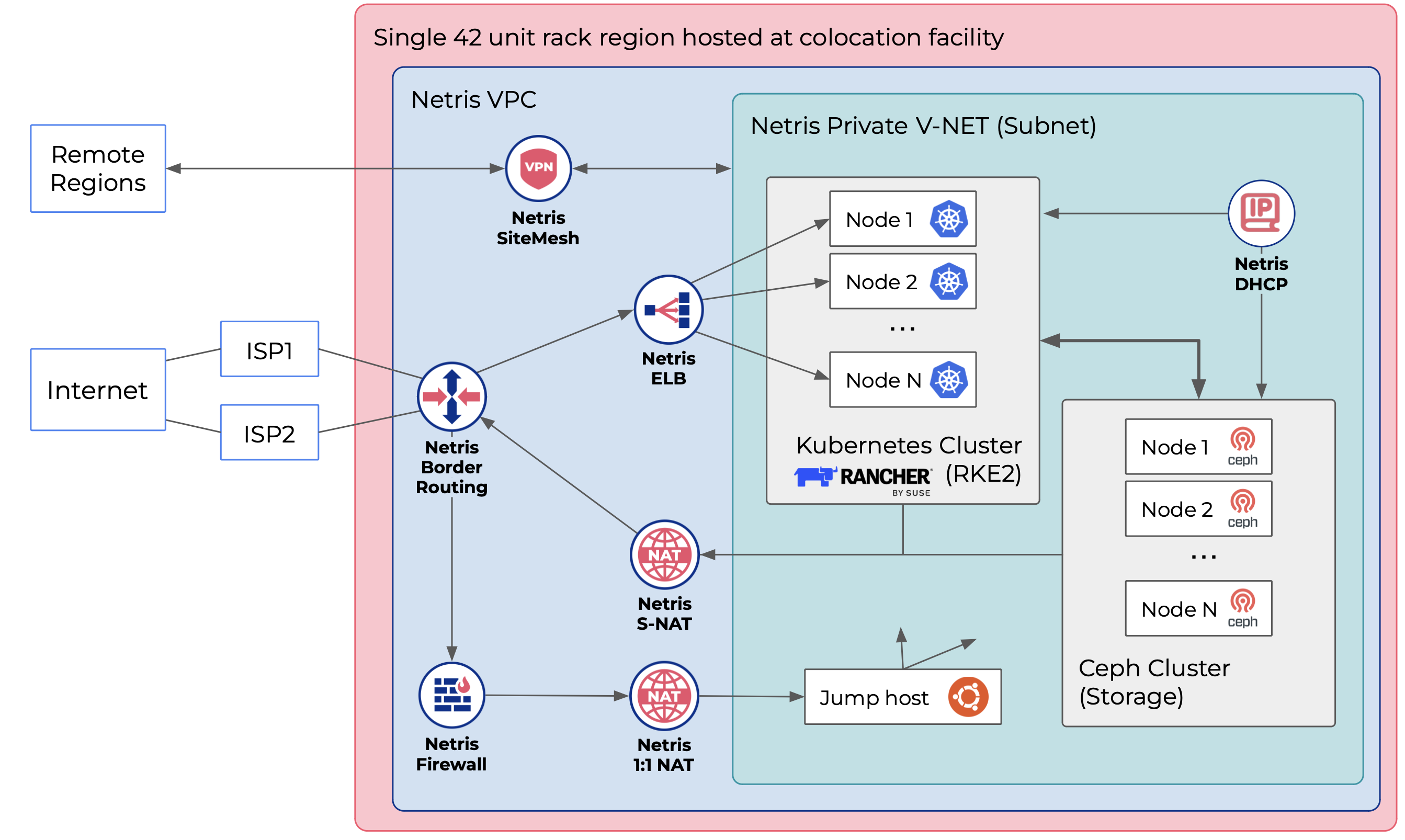 Infrastructure Software Stack
Border Routing: FRR + DPDK + Netris
Elastic Load Balancing: DPDK + Netris
NAT: DPDK + Netris
Firewall: DPDK + Netris
DHCP: ISC KEA + Netris
VPN: Wireguard + Netris
Storage: Ceph
Kubernetes: Rancher + Netris Operator
IaC: Terraform
Hardware
Example Hardware Placement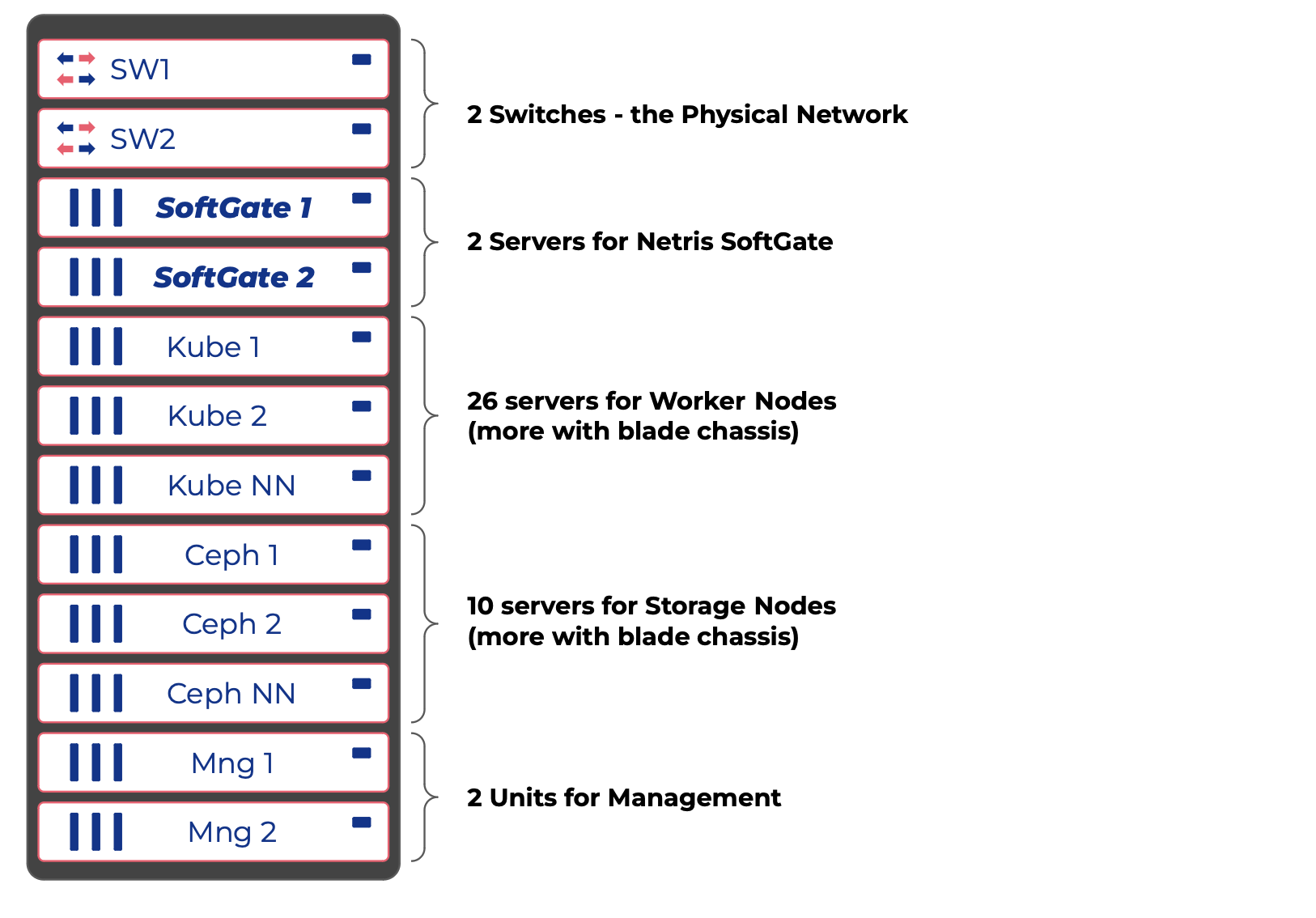 Infrastructure Hardware Stack
Physical Network: Dell Z9100 Switches
SoftGate the VPC Gateway: 2 x Generic Servers + Nvidia ConnectX-6 SmartNIC
Worker Nodes: Generic Servers with 25G Ethernet
Storage: Generic Servers with fast disk drives and 100G Ethernet
Management: Generic Servers with 10G Ethernet
Support and Professional Services
When using AWS, you know that the cloud provider is responsible for infrastructure operations, and you can use their support in case you hit any issues. But who is responsible for what when it comes to your own private cloud on your own hardware
Netris software subscription includes 24/7/365 support that covers not only Netris software issues but also all underlying Linux and open-source components that the Netris VPC system is leveraging. This way, AcceleratXR gets a "single throat to choke" for their Networking stack.
If there is a hardware issue, while HA (high availability) will keep systems running, Netris's built-in monitoring system will generate an alarm. If further troubleshooting is required, Netris support will help narrow the problem down so the AcceleratXR team knows what hardware piece needs a replacement.
If there is a software issue somewhere in the network solution, then Netris is responsible for troubleshooting and resolution.
Additionally, the Netris Professional Services team helped AcceleratXR's engineers design the architecture, choose the proper hardware, set it up, and go live.
Today, AcceleratXR's product is running on its own private cloud. Netris, Rancher, and Ceph software solutions bring the cloud-like infrastructure consumption experience to their private cloud.
I felt very comfortable with the guidance from the Netris Professional Services team around things that we were not experienced with, helping establish our private cloud.
AcceleratXR has designed a highly automated and horizontally scalable private cloud that helped them significantly reduce infrastructure costs compared to AWS and achieve 90% better unit economics.
Growing further, they will scale their initial California-based infrastructure and will launch more regions using colocation and bare-metal-as-a-service providers. With Netris, AcceleratXR has a single, unified, and easy way to consume any network, with the comfort of AWS but on their own terms.
Choosing a hardware provider became just a business decision, as Netris abstracts away technical details and integration overhead, and building your own private cloud anytime, anywhere became the norm.