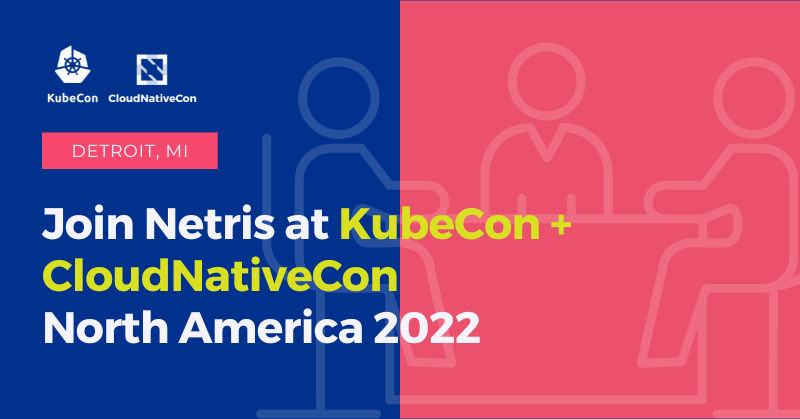 Netris at KubeCon + CloudNativeCon 2022
We're thrilled to be in Detroit, Michigan from October 24-28, 2022 to meet industry innovators from leading open source and cloud native communities. This year, Netris is unveiling Netris VPC Anywhere and attendees will have a chance to try it at Booth #SU72.
Meet Our Team

Learn About Netris VPC Anywhere with Alex Saroyan and Kelsey Hightower
At KubeCon + CloudNativeCon 2022, Alex Saroyan and Kelsey Hightower will be demonstrating Netris' VPC Anywhere solution. The Netris VPC can operate on top of your existing network technology, enabling Network Engineers to provide the InfraOps, and DevOps engineers the cloud-like experience they need.
VPC Anywhere is a solution designed by Netris that allows the integration of VPC network functionality into any network. Netris VPC can be used for all or part of the network traffic. Therefore it is easy to integrate Netris VPC even into existing production Networks without introducing disruptive procedures. To learn more about VPC Anywhere, access the developer tools and docs here.
Mark your calendars, on October 26 at 4pm, Kelsey Hightower will be signing his latest edition of Kubernetes Up & Running. Bring your own books or grab one of the limited copies we'll have at booth #SU72. 
Try Netris, Grab Swag!
Visit the onsite Netris team at Booth #SU72 to speak directly with the founders, Principal Cloud Architect, and the Solutions Architect. We'll be giving out swag and letting booth visitors try the newly released Netris VPC and the rest of our product and solutions suite. If you're looking to learn more about Netris, book directly below to meet with our Solutions Architect at KubeCon.