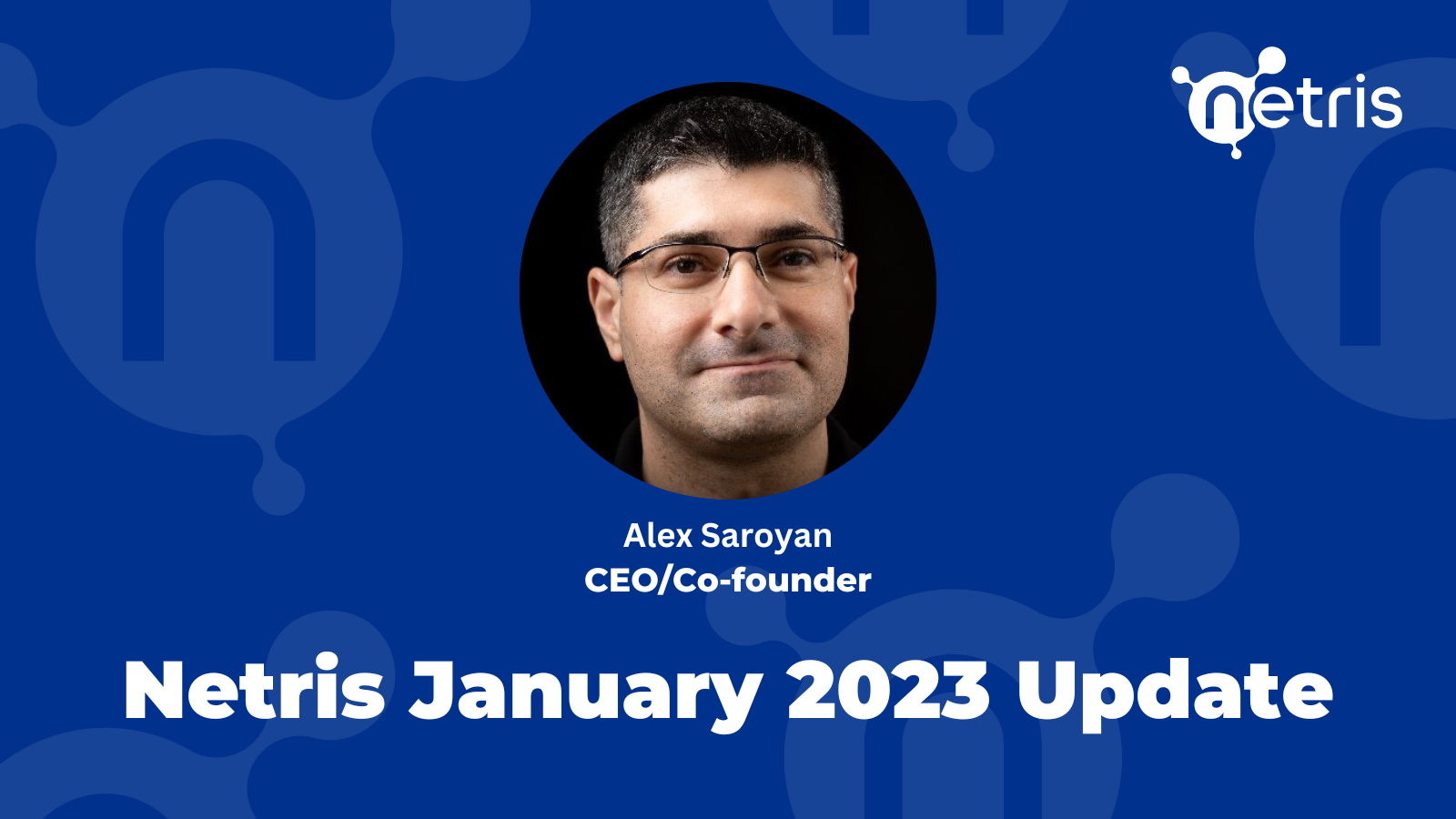 Netris January 2023 Update
January was a fantastic start to the year, and I am sharing with you the most interesting updates.
What's in this blog post?
Newly joined customers in January
Netris Named to Futuriom 50 Top Private Companies in Cloud Infrastructure
Product updates
Details of $3M Amazon AWS cloud bill of 37Signals a SaaS platform
Alex Saroyan
CEO/co-founder
Three new amazing Netris customers in January
We have welcomed three new customers with brilliant engineers working on challenging and mind-blowing tech.
A public cloud provider headquartered in the Netherlands. They will use Netris for their new region to operate Nvidia switches and also will use our VPC Gateways at the region border.
AcceleratrXR is a Metaverse platform based in LA, and they are working on some mind-blowing technology enabling organizations to build their own VR experiences in Metaverse. I'm looking at one of their customers and trying to find time to try it!
A platform for virtual social music experiences. I was super excited to find one of my all-time favorites, big-name DJ Paul Oakenfold, on their platform.
Each company's story is exciting, so I plan to invite each company for a Netris Connect interview to spread their experience.
Meanwhile, we interviewed the CEO and two amazing Engineers of our customer Databento (market data platform for traders) and will share their private cloud operating experiences later this month.
Netris Named to Futuriom 50 Top Private Companies in Cloud Infrastructure.
We are very proud to be in the same group with amazing organizations shaping the future of cloud technologies – for the third time in a row. (Futuriom 50 Top Private Companies in Cloud Infrastructure – 2023 report)
Product updates:
Netris 3.4 is coming soon. What to expect:
Alongside Equinix Metal, we are introducing native integration with PhoenixNAP. If you are looking for a cost-efficient bare-metal-cloud provider, then check them out.
Maintenance mode for SoftGate nodes. To facilitate non-disruptive maintenance and software upgrades for our VPC gateway.
Coming up further in Q2
VRF support
Active/Active Server multihoming LAG (using EVPN ESI)
Alongside Nvidia and EdgeCore, we are adding native support for DELL switches
Detalization of $3M Amazon AWS cloud bill
David Heinemeier, famously known for creating Ruby on Rails, a programming technology that many world-class organizations are using (learn more), is co-owner and CTO of 37signals, which runs two major SaaS products, Basecamp & HEY.
Initially, they were hosting their SaaS business partially in AWS and partially in their own infrastructure. They announced in October/2022 their decision to leave AWS and move primarily to own infrastructure. (full story here)
Organizations are more cost-conscious in the current economy, and we observe similar patterns with many of our customers. However, 37signals did one extra thing that I bet everyone is curious about. They have published details of their $3M AWS bill.
You may also like David's other blog post titled Hardware is fun Again.
Fun stuff: Watch this COVID commercial
---
We uncomplicate networking,
so you can focus on things the most important to you.
---