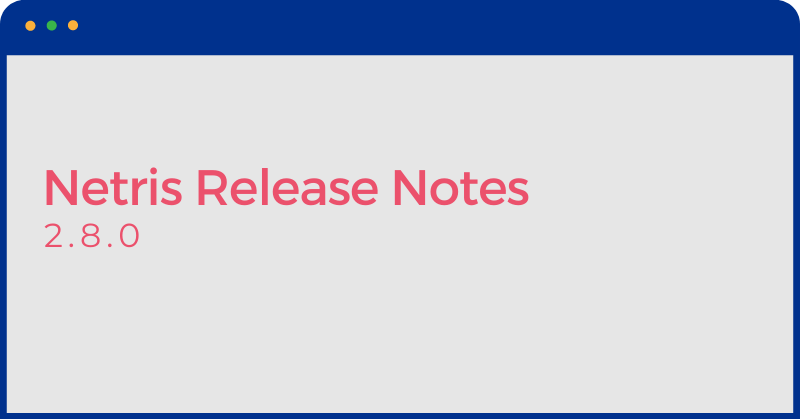 Netris Release 2.8.0
Release Date: 13 May 2020
What's new in this Netris Release?
Updated GRPC based agent/controller API with encrypted data exchange. 
We have rebuilt ground up our configuration parser library.
Cumulus, SwitchDev, SW-router agents refactored from scratch using GoLang, new GRPC API, and new parser library.
Northbound BGP, external BGP templates are entirely updated.
New Object-oriented E-BGP control policies. We now include objects: Route-maps, communities, as-path, prefix-lists.
VLAN aware bridge mode for V-NET(formerly known as a circuit). VLAN aware mode can be used simultaneously with a standard mode on the SwitchDev platform, but NOT on the Cumulus platform.
LAG support for the hairpin link. Removal of the hairpin requirement for SwitchDev platform.
Support of SwitchDev platform in both leaf and spine switch roles. Using the SVI interface, so no need for a hairpin anymore.
Improved frontend with better UX, now represented as a SPA (Single Page Application) 
Improvements to the visibility system include automatic monitoring of critical system services and processes for Cumulus, SwitchDev, and NFV platforms.
Improved performance for the anycast Load Balancing checks, these are now written in GoLang.
API documentation included in the GUI.
Netris Bug Fixes
E-BGP peer migration between termination points was causing problems.
Anycast Load balancer health checks were causing performance issues when applying multiple health checks on the single switch.
Problems with permissions to assign IP address to an ROH instance for LDAP authorized users.
Misconfiguration caused by unstable connectivity between agent and controller.
Link visualization issues in the topology view.