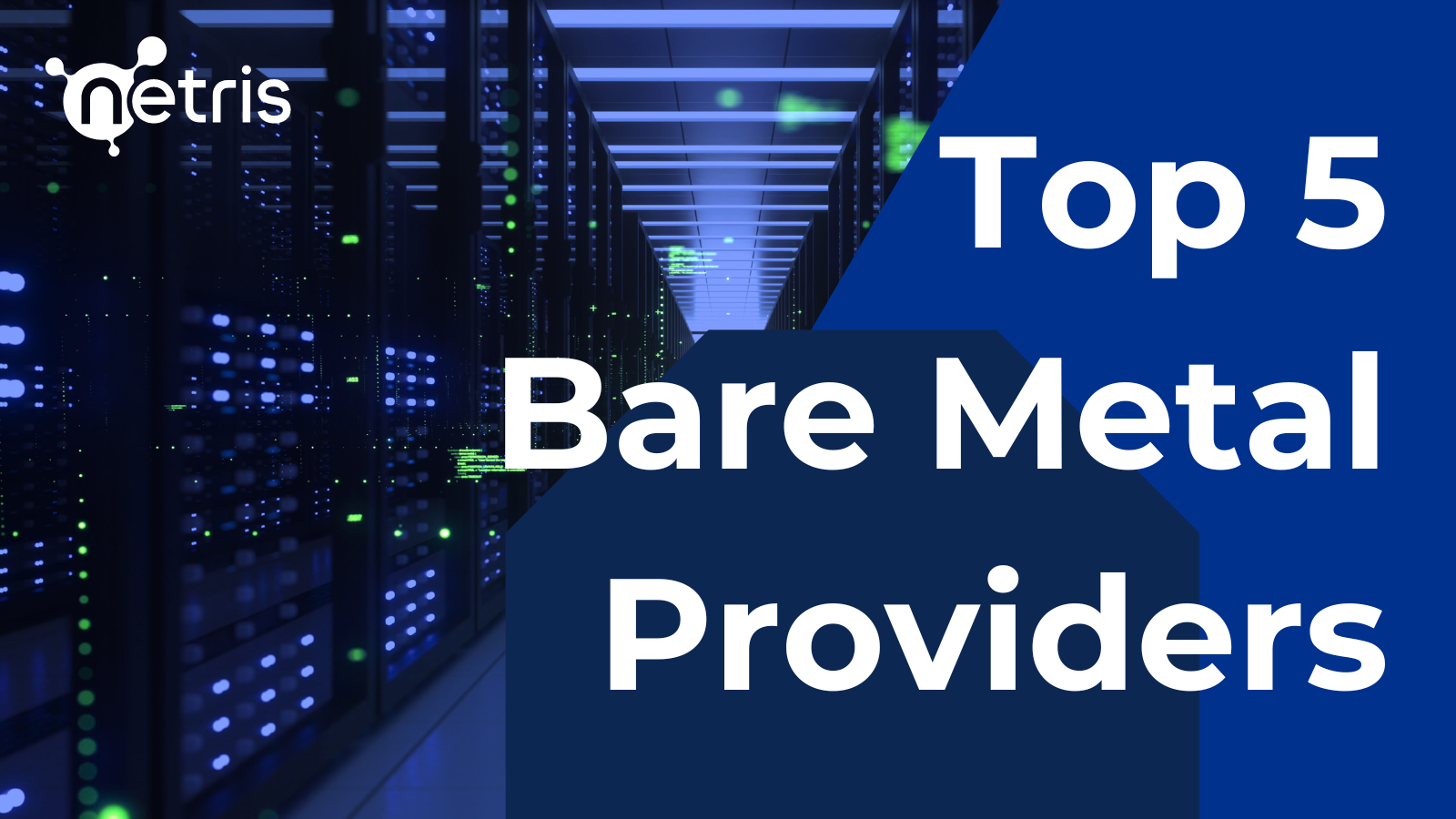 Top 5 Bare Metal Providers
Looking for the best bare metal cloud provider? Look no further! In this blog post, we've scoured the internet to bring you the top 5 bare metal cloud hosts. From on-demand compute to storage and network resources, these providers have it all. But with so many options out there, how do you choose the right one for you? Don't worry, we've done the hard work for you and compared each provider to help you make an informed decision. So sit back, relax, and discover the top bare metal cloud hosts to take your application to the next level.
There are tons of bare metal and dedicated hosting providers out there. To be considered in this evaluation, we had a few requirements. First, a provider must provide a method to purchase on-demand compute at an hourly rate. This is paramount, as a major benefit of cloud computing is the ability to scale as needed. Second, the cloud host must have over 5 locations with available servers. Location is an important factor, and having options is a must.  Lastly, we required that the provider provide full bare metal servers and not just vCPUs and virtual servers. This is a major differentiation from the full cloud environment and a bare metal.
Next, we chose some evaluation criteria to consider when comparing. This list includes:
Number of locations,

The networking capabilities of each provider

Ease of use

And, of course, cost.
Number of locations is important to some users and not others. Those for whom it is important, will want a variety of edge locations for their applications. Networking includes all possible networking services you may need, whether that's DHCP, VLANs, VPN, NAT, backhaul, etc. Ease of use is another important factor, as you want a platform that is intuitive and easy to navigate. Cost is naturally a major consideration, so we were sure to compare the pricing structures of similar bare metal configurations. Note, larger discounts may be negotiated, but we just took the pricing structure available by default. The size and activity of the community can also be a good indicator of the provider's quality and reliability.
As a quick history lesson, bare metal providers have been around for a long time, though under the name "dedicated servers".  Classic company names like HostGator, 1&1 Hosting, and Rackspace come to mind. These guys deployed tons of dedicated and shared servers before the cloud revolution. AWS came onto the scene around 2006, but didn't start gaining traction for a few years.  Then around 2014, Packet came into the space and pretty much reinvented dedicated servers with the idea of bare metal. They even went as far as to open source their provisioning platform under CNCF's project named Tinkerbell. Flash forward to today, and there's a solid handful of good bare metal providers to help you move out of the pain of the cloud providers while not having to fully invest in an on-prem datacenter, complete with all the engineers required to maintain that environment.
The major difference that we're looking for between the classic dedicated server provider and a bare metal cloud provider is the ability to get compute at hourly rates with non-contractual agreements and instant, on-demand provisioning. These are all the same reasons why cloud providers became so highly sought-after, and a bare metal provider doesn't have the same risks that you can find in the cloud that comes with shared resources. We won't dive into all these risks, but there's plenty.
So, onto the data:
Number Of Locations
First let's look at the number of locations available to create servers. This is very important if you have a distributed application and user base. Edge computing, multi-regions, and low latency applications all benefit here. That said, this is less important if you just need a primary/backup bare-metal region.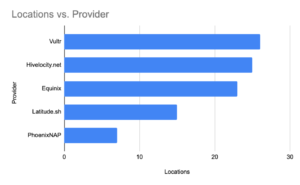 As you can see here, Vultr barely squeezes out the lead here. Equinix Metal, Hivelocity and Vultr all have similar numbers.  Latitude.sh and PhoenixNAP come out with less than 20 sites, and while not as many as the other three providers, they still provide many options to choose from.
Networking Services
Next we look at networking. This one is near and dear to our hearts, as Netris provides a one stop shop for all your networking services needs on-prem, in the cloud, or, yes, you guessed it, in a bare-metal environment. That said, you may not need a 3rd party networking services tool like Netris, and that will depend on what you need and what the provider has.  Here's a table to help you decide. Note that we have added Netris just as a reference of how awesome we are!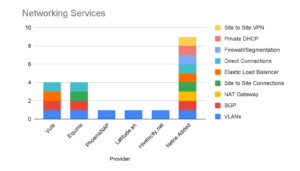 Ease of Use
For ease of use, this is a very biased answer and, quite frankly, not much of a gap here.  There are a few standout points.  First, Equinix Metal has the best community with both open source tooling and an open slack channel to get help in.  Heck, they open sourced their platform, and it seems that most of the other Bare Metal providers may use it.  Next, Vultr had easy to deploy block storage, object storage, and managed databases.  This was above and beyond for bare metal, if you need those.  And lastly, Latitude.sh provided the simplest, cleanest UI.  For us engineering types, it may feel too simple, but if you want ease and simplicity, there it is.  And here's the pie chart to prove it: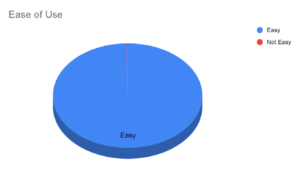 Cost
And lastly, let's talk about pricing.  This is very hard to generalize and should be taken for a grain of salt.  We chose to pick low-end compute servers that were similar in compute power, if possible, find the cost per hour, and divide it by the CPU Mark benchmark value.  That gives you a dollar per CPU Mark metric.  This is by no means a perfect representation of costs, but it gives a great general overview of where each company is at in performance to cost.  And the results were quite interesting: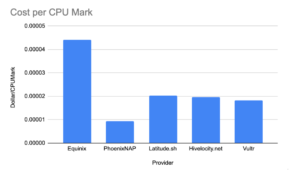 Raw data:
This data is really interesting.  It seems that three of the providers are about at the same cost, as one would expect.  The interesting part is that Equinix is almost twice as expensive as the others and almost four times as expensive as PhoenixNAP.
Summary 
At the end of the day, one provider is right for one user and another provider is right for another.  Some hosts provide more features, and if you need them, they're an excellent choice.  While some may be looking for cost optimization.  All-in-all, this is a great space with great options for those looking to move off the cloud or out of their data center into a bare metal environment.
---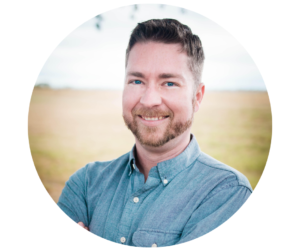 Author:
Wyatt Sullivan, 
Solutions Architect